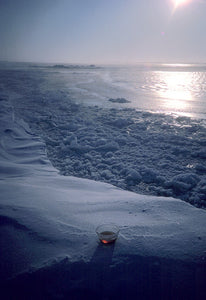 This essence was prepared on the Arctic Ocean ice pack near the North Pole. It is an essence of transition and the completion of cycles. 

It can be used to support us when we are impatient with a cycle of change, when we want it to be a different time than it is in our lives. Perhaps we are concerned with getting older, waiting for an operation, or in between relationships or jobs. Most of the time, we really don't know what's going to happen next. Our challenge is to remain present with ourselves and our process and accept where we are in each moment.
Polar Ice essence helps us achieve a more patient understanding of the subtleties of time and brings support for staying present in a place of pure waiting, with no anticipation of what is to come.
Limited Edition