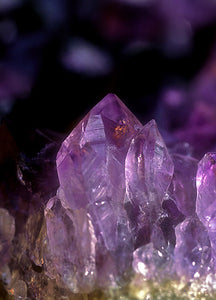 Indications: over-identification with the gross, material aspects of life; separation from the spiritual realm; weak connection to one's higher self; resistance to bringing the spiritual into the physical.
Healing Qualities: transmutes energy from lower to higher vibratory frequencies; helps to lift energy from an overly material state; helps one sense and experience one's unique spiritual identity in the body.
Ingredients: purified water, organic Demeter Certified Biodynamic® brandy (alcohol 20% by volume) and the vibrational infusion of Brazilian Amethyst.
Instructions for use: add 2 drops to a small cup of water and take a sip 4 times/daily. Read more here.