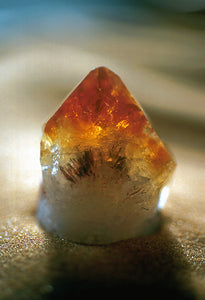 Indications: mental confusion and distortion; lack of mental clarity and concentration; mental forces dominating the physical and emotional aspects of life; difficulty determining  what is in one's highest good; closed to higher sources of wisdom and inner knowing.
Healing Qualities: harmonizes the mental body with higher spiritual laws; increases access to Divine intelligence; amplifies qualities of concentration, centering and rational mind.
Ingredients: purified water, organic Demeter Certified Biodynamic® brandy (alcohol 20% by volume) and the vibrational infusion of Citrine.
Instructions for use: add 2 drops to a small cup of water and take a sip 4 times/daily. Read more here.