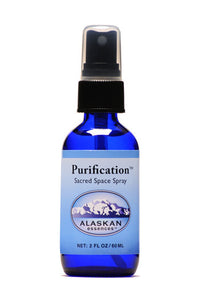 The Purification Spray combines the cleansing and refreshing qualities of the following four essences:
Fireweed flower essence – breaks up and moves out old energy patterns, initiates cycles of revitalization and renewal.
Sweetgrass flower essence – releases disharmonious energies from the environment by constantly attracting benevolent blessings from Source. Native cultures use Sweetgrass to smudge!
Black Tourmaline gem elixir – exchanges stagnant unwanted energies for fresh, clean neutral energy.
Portage Glacier environmental essence – a powerful catalyst for cleansing and purifying toxic or polluted environments.
The essential oils of Black Spruce, Frankincense, Lavender, and Peppermint are added to enhance the purifying function of the formula and add clarifying, sanctifying, and refreshing qualities to the spray.
The Purification Spray evokes a feeling of cool winds blowing off glaciers. It carries an invigorating blast of ionic energy that washes away tiredness and brings a sense of vital aliveness.
Use the Purification Spray to:
Purify and recharge the environment where there is stagnant energy—the first step in the Space Clearing process.

Break up unhealthy patterns of energy in an environment where there has been addiction, depression, or abuse.

Release toxic energy from the mind, emotions, and physical body.

Revitalize, balance, and stimulate the renewal of energy on all levels of your energy system.
See also our Purification drops.