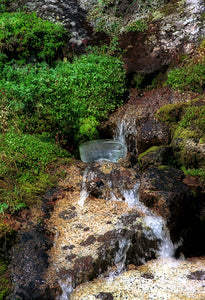 This essence was was prepared from a spring high in the Talkeetna Mountains of south-central Alaska. Water from this spring emerges from the center of a sheer rock face and cascades down to a pool at its base. Rock Spring is an essence of hope and miracles! It embodies the constant proof that nothing is impossible. It is an essence that can help us find our way through seemingly insurmountable obstacles with infinite patience and never ending trust. 
Rock Spring represents the larger interplay of the elements of earth and water: the mountains of rock and their interaction with the weather, snow, and rain, and the water's underground journey to the opening in the rock face. The spring symbolizes the power of flow and the power of yielding to it. Its about finding the way, in the dark, constantly exploring the path with infinite patience, working with the surroundings to always seek forward movement. It is also about allowing oneself to be constantly sculpted, rounded, and smoothed by the natural forces of life, knowing that resistance is futile and that flow will always win out in the end.

The Rock Spring essence opens us to the abundant generosity of Nature. It encourages us to open as well to unexpected gestures of flow: pleasant surprises, windfalls, and altruism from others.