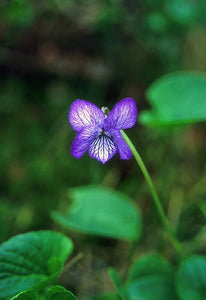 Indications: lack of grounding; overcautious; timid; reticent; unable to actualize one's life purpose in a practical way on the physical plane.
Healing Qualities: supports us in finding the right energetic relationship with ourselves, others and the environment, especially in crowded situations; helps us create a quiet place inside where the flame of love and enthusiasm for our life's work can be nourished and protected.
Ingredients: purified water, organic Demeter Certified Biodynamic® brandy (alcohol 20% by volume) and the vibrational infusion of Alaska Violet - Viola langsdorfii.
Instructions for use: add 2 drops to a small cup of water and take a sip 4 times/daily. Read more here.