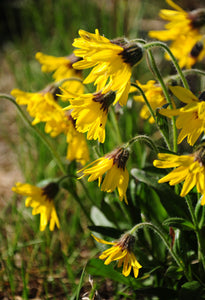 Indications: over identification with emotional traumas and wounds from the past; pain without understanding.
Healing Qualities: illuminates the relationship between old emotional and mental imbalances and the pain we are feeling in our bodies; helps us let go of our accumulation of past hurts without going through every detail of what happened and why; promotes ease, deep calm and balance.
Ingredients: purified water, organic Demeter Certified Biodynamic® brandy (alcohol 20% by volume) and the vibrational infusion of Alpine Arnica - Arnica alpina.
Instructions for use: add 2 drops to a small cup of water and take a sip 4 times/daily. Read more here.