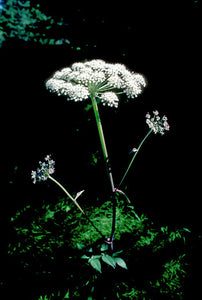 Indications: feeling lost or abandoned and without spiritual protection; isolated in one's anxiety; overburdened by life.
Healing Qualities: connects us to the protective energies of the angelic kingdom; promotes acceptance of spiritual support in all situations; helps us experience protection as coming from a certainty of our Divine nature.
Angelica is also one of the ingredients in Calling All Angels Divine Nurturing Formula and Spray.
Ingredients: purified water, organic Demeter Certified Biodynamic® brandy (alcohol 20% by volume) and the vibrational infusion of Angelica - Angelica genuflexa.
Instructions for use: add 2 drops to a small cup of water and take a sip 4 times/daily. Read more here.