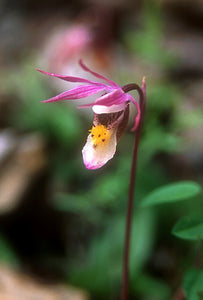 Indications: weak vertical alignment; not wanting to stand out and be noticed; spiritual potential and wisdom not activated or manifested in the physical body.
Healing Qualities: support for standing in our power and beauty, and for projecting our unique individuality in a clear way; helps us manifest our spiritual wisdom through our physical bodies; strengthens the male principle in men and women; promotes clear communication through alignment with Earth and spirit.
Ingredients: purified water, organic Demeter Certified Biodynamic® brandy (alcohol 20% by volume) and the vibrational infusion of Fairy Slipper - Calypso bulbosa.
Instructions for use: add 2 drops to a small cup of water and take a sip 4 times/daily. Read more here.