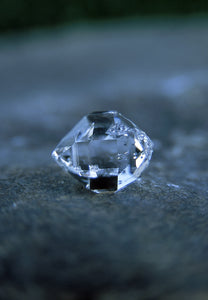 Indications: cloudy or undeveloped psychic vision; low energy; unable to remember dreams, or having confusing dreams full of chaotic imagery; difficulty bringing information from dream symbols into conscious understanding.
Healing Qualities: a highly developed transmitter of white light; promotes clarity of vision; stimulates healing on all levels; facilitates clarity during the dream state; brings balance and focus to the 6th chakra.
Ingredients: purified water, organic Demeter Certified Biodynamic® brandy (alcohol 20% by volume) and the vibrational infusion of Herkimer Diamond.
Instructions for use: add 2 drops to a small cup of water and take a sip 4 times/daily. Read more here.