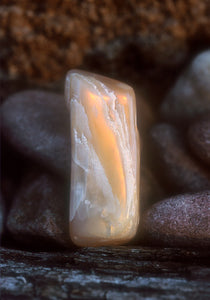 Indications: heightened psychic sensitivity during menstruation; touchy, edgy, overreactive; emotional energy blocked and difficult to express in a clear way; lack of sensitivity and intuitive awareness in men and women; hard edged persona.
Healing Qualities: cleanses and circulates energy in the emotional body; increases feminine energy aspects of receptivity and intuition in women and men; balances and focuses the psychic forces during menses.
Ingredients: purified water, organic Demeter Certified Biodynamic® brandy (alcohol 20% by volume) and the vibrational infusion of Moonstone.
Instructions for use: add 2 drops to a small cup of water and take a sip 4 times/daily. Read more here.