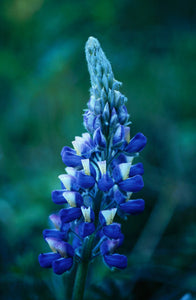 Indications: victim consciousness; resignation about one's place in life; vulnerable to influences from the past; lacking the courage and confidence to confront and resolve karmic issues.
Healing Qualities: helps us confront and address deep karmic issues that surface repeatedly for resolution; shows where our awareness and energy need to be focused in order to transform these matters.
Ingredients: purified water, organic Demeter Certified Biodynamic® brandy (alcohol 20% by volume) and the vibrational infusion of Nootka Lupine - Lupinus nootkatensis.

Instructions for use: add 2 drops to a small cup of water and take a sip 4 times/daily. Read more here.