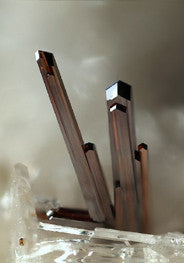 Indications: feeling trapped in physical form; overly materialistic focus in life; weak connection with the Earth; lack of awareness of the non-physical dimensions of reality.
Healing Qualities: shows us how to co-create with the higher intelligences that inhabit the physical realm so we can work with and modify our physical structures to better meet the needs and demands of our life journey; reminds us that we are part of something bigger that transcends the physical and is very much intact and functioning.
Ingredients: purified water, organic Demeter Certified Biodynamic® brandy (alcohol 20% by volume) and the vibrational infusion of Rutile.
Instructions for use: add 2 drops to a small cup of water and take a sip 4 times/daily. Read more here.