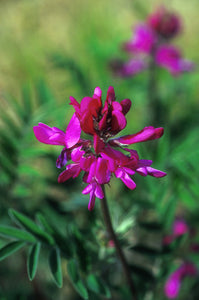 Indications: lack of confidence in social skills; tendency to isolate rather than seek meaningful contact with others.
Healing Qualities: promotes confidence and ease in our interactions with others; supports the outward expression and sharing of our talents and abilities, and encourages us to share our best in service to others.
Ingredients: purified water, organic Demeter Certified Biodynamic® brandy (alcohol 20% by volume) and the vibrational infusion of Wild Sweet Pea - Hedysarum mackenzii.

Instructions for use: add 2 drops to a small cup of water and take a sip 4 times/daily. Read more here.